Wrought Iron Gates Improve the Look of Any Home
Wrought Iron Gates Improve the Look of Any Home in Southern MD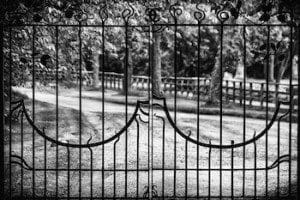 In Southern MD where the world is full of chain link and wooden fences, wrought iron gates are a great hiatus from the ordinary and can make your home look many times more attractive than it may already be. Furthermore, unlike other types of gates, wrought iron gates can be used in nearly any setting, from encircling your home to fencing off your pool from accenting certain areas of your front or back yard. Wrought iron gates can even be combined with other types of materials, including brass for accent, and can be mixed with nearly any type of wall for a regal look. As driveway gates and garden gates, wrought iron performs as an excellent product which will give you both a high class look as well as an incredibly durable product which will last for years without any major problems.
If you wish to accent your standard wrought iron gates, there are plenty of products to allow you to do so. First and foremost, for just pennies you can purchase a huge variety of different gate latches, hinges and handles to make your gate look as good as it possibly can. These are relatively cheap products and can range from the simple to the highly complex, depending on how much security you want and what type of style you are looking for. Alternatively, if you have iron gates secluding your home from the street, you can purchase an automatic gate opener so you do not have to open your gate by hand each time you want to come or go from your home.
Aside from all of the add-on parts you can purchase for your wrought iron gates, you will also find that you can replace a standard set of gates with some professional crafted works of art. Many up and coming metal sculptors work with wrought iron as one of their canvases, allowing them to create superb designs with their artful techniques. Melding wrought iron with brass allows some of these professional artisans to create some mind blowing gates which you would expect to cost tens of thousands of dollars but can actually be purchased for relatively cheap prices. So, if you are into high style for any homes look, then check out handcrafted iron gates.
Contact Clinton Fence for a free estimate on all your fence choices.