Durable & Beautiful
Decks and Porches!
 Decking & Porches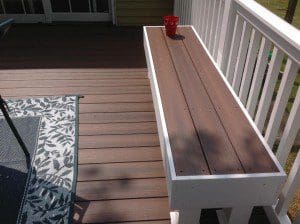 Maximize your backyard enjoyment with our professional deck services and front porches designed by the professional deck builders in Southern MD, Clinton Fence. Decks and  porches have become popular additions to homes, and we have the expertise to build structures you're sure to enjoy for years. In fact, our porch designers and installers are experienced home builders.
Choosing the deck that fits your family needs is important.  When we come out to give you your free estimate we will assess your needs, where you would like your deck to be placed and all concerns you may have.  The structure that you and your family will relax and enjoy must be built sound and to code.  We build our decks above code to ensure your safety.  All necessary permits are obtained and we can help you with acquiring your Home Owners Approvals.
Choosing materials for decking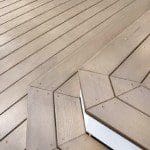 Warm weather often gives rise to thoughts about spending time in the great outdoors. Decks can expand outdoor living spaces, making them popular home additions. However, when it comes time to map out a deck building plan, individuals may be unsure as to which deck material will meet their needs. Wood and composite decks are among the most popular choices today, and the popularity of aluminum is growing steadily.
Wood
Wood is a versatile and attractive decking material. According to the wood resource Real Cedar, some people think that wood is too expensive and requires too much maintenance. In fact, domestic softwoods can be very cost-effective decking options. According to Remodeling Magazine's "Cost vs. Value" report, wood decks retain considerable resale value.
In terms of maintenance, choosing a rot-resistant wood can result in less maintenance. Durable woods include cedar and redwood. Popular Mechanics says both species contain tannins and oils that make them naturally resistant to decay, rot and voracious insects. Periodic cleaning and inspection/repairs will be needed, but wood can be much more durable than people may think.
Composite
Composite decking and its close cousin, plastic lumber, are some of the fastest-growing decking materials on the market. Many products are made from polyethylene or polyvinyl chloride. Some composites will be comprised of recycled plastic and wood fibers to create a weather- and stain-resistant material that doesn't warp, rot or splinter. Composite manufacturers continually experiment with manufacturing processes to duplicate the look of natural wood grain.
Homeowners are often drawn to composite decking because such decks require little maintenance. These decks do not need to be sanded, stained or refinished. However, mold and mildew can grow in shady, damp areas, so homeowners must realize that these products are not completely maintenance-free.
Various decking materials can meet the look, price point and maintenance level homeowners desire.
Let the experts at Clinton Fence Company help you when it comes to all your deck options.
Vinyl & Wooden Custom Built Decks Are Our Specialty