Iron Fence vs Aluminum Fence – Which is Better?
REVIEWING THE DIFFERENCES BETWEEN IRON FENCE AND ALUMINUM FENCE: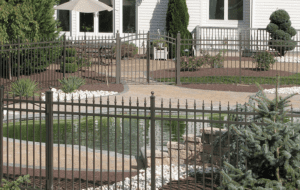 One of the questions we get asked all the time is which is better iron fence or aluminum fence. Listed are common scenarios, to show where one material may outshine the other, and some areas are both equally good at now.
Before we get started, let us stress: there really is not one better material? It comes down to your preferences and your project needs more so than one of the materials being superior to the other.
WHICH LOOKS BETTER ALUMINUM FENCE OR IRON FENCE?
Let's start with a question we get asked most when it comes to these two, which is the better-looking one, iron fence or aluminum fence. Now what I have here on the stand in front of me are some of our signature grade iron and aluminum pieces and traditional grade iron and aluminum pieces.
Now you'll notice. They look fairly similar. The profiles between the two are fairly similar. Really, the only real difference you see is the railing on the aluminum. You'll notice that it has this taller rail with a screw securing the picket to the rail over here on the iron. So in terms of looks it seems to be a draw.
HOW TO MAINTAIN AN IRON FENCE VS. HOW TO MAINTAIN AN ALUMINUM FENCE:
Next, let's, move on to maintenance, one of the biggest maintenance concerns we hear when it comes to iron and aluminum.
The largest maintenance issue is rust when it comes to these two types of fencing.  Just to be clear if you scrap an aluminum fence to bare metal it will not rust.  It's the properties inherent to aluminum that it will not rust if exposed to air. Now, although it will not rust, bare aluminum will still oxidize.  This is actually what makes it corrosion-resistant.
Now, if you scrape the iron counterpart down to bare metal it will rust. However, fence manufacturers ususally use a protective coat of zinc, galvanized over the bare metal.
With this final finish, its like the hood of your car. If  you get a rock chip in the hood of your car and you don't touch it up, you're going to get rust. However, it would take decades of neglect of not touching up that rust point on your fence for it to really degrade.
However, in this category let's call aluminum the winnet when it comes to maintenance.  Simply for the fact that, even if you do scrape it down to bare metal, you're, not going to have any rust concerns.
SEE THE DIFFERENCE IN FINISHES BETWEEN ALUMINUM FENCING AND IRON FENCING.
Each fence type goes through a bit of a different finishing process but in the end, the finish you see on the outside is the same between both iron and aluminum. So therefore, again we're calling this category a draw. They both have the same nice finish to them.
THE CHOICE IS YOURS
Both aluminum and iron are great fencing materials.  The choice is up to you.  The professionals at Clinton Fence can help guide you through the process so you'll have a fence that will last years and that you'll be in love with from the start.
Now, if you have any further questions about which material may work best for your project feel free to give us a call at Clinton Fence