Vinyl Fencing Company in Maryland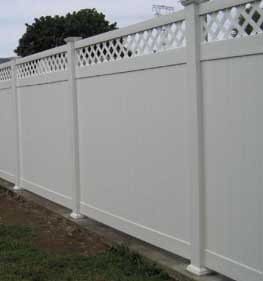 Vinyl fencing makes the perfect perimeter fence for many reasons. Vinyl fences make great privacy fencing. And it  helps keep your home secluded.  Vinyl fencing helps protect you from criminals and thieves,  and it keeps your yard peaceful from stray animals and rambunctious neighbors.  Vinyl fencing may look lightweight but it's as strong as other fencing made from wooden, metal or cable.
Vinyl Privacy fencing is often designed with groove pickets locking collectively for complete privacy and security and the most advanced have elegant aluminum support on the bottom railing. For more a unique designs consider making custom requests at the time of the purchase. Having a professional install vinyl fence at your residence ensures you'll have complete privacy faster than installing the fence yourself.
Fence design available at most hardware stores, lumber companies and fence companies, include; picket toppers, lattice, and horizontal railing configurations. Different fence styles will refresh and improve the look of the home. There are misguided thoughts with regards to vinyl fences, dating from years ago when vinyl turned yellow with time, sun and weather exposure.
Vinyl fencing is almost maintenance free today when compared to other fence types. A high-quality vinyl fence no longer yellows over time from weather exposure. Today, vinyl fences are treated with additives that increase the fences durability and prevents ultraviolet degradation.
But remember not all vinyl is created equal so it's important to purchase your fence from a reputable dealer offering high-quality vinyl.  Good quality vinyl can last a lifetime so it's an investment you don't want to take lightly when choosing your installer.