[breadcrumbs]
Why do I need to get a permit to build a deck or Screen Porch?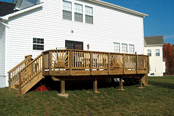 Clinton Fence Company requires Permits for all of our Decks and Screen Porches. We carry all the decking materials you will need to build your deck.  All wood materials are ACQ (type of treatment used to preserve your wood with no toxic effects) and have a polymer type wax injected inside and on the outside.  We carry Vinyl decking, Composite decking and railing, and wood decking. We can install and obtain your permit, too!
There are several reasons and all are important.
Building codes are set up for your safety. When you apply for your permit at your local county office your drawings are checked for the code requirements for your project.
These requirements include but not limited to the following:
•How many beams and posts you will need for proper sub-structure strength
•The height of your railings or knee wall
•The right height or rise of your steps
•The spacing of your pickets for your railings
•How the roof of your porch is attached to your existing home
These are just a few of the components of your project that are looked at, again all designed for your safety.
Homeowner Associations or HOA
So many neighborhoods have HOA requirements concerning any changes made to the exterior of your home.  Each HOA has its own specific process for obtaining an approval to do your project.  Some county's require a copy of this approval before they will submit  a permit. If you are thinking in the near future of making any exterior improvement on your home it is best to start the process at least one month before you expect to start your project.  Typically it takes 4 to 6 weeks to get your HOA approval.